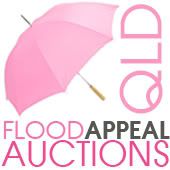 I've decided to join in with a whole lotta other bloggers who will be holding auctions, raffles or sales on their blogs to raise money for the Qld flood victims.
I've been sitting here feeling the need to help in some way and came across this on one of the blogs on my blog list,

Fox's Lane

, who is also participating.
A list of all the participating bloggers will go up on

Toni's

blog on Monday, so if you want to help by bidding, buying or even holding your own auction on your blog, for info, please drop by her place and do it! Now please!
I've never done this before, so go easy on me for any mistakes I may make along the way, and I also have no idea what I'll be putting up for auction yet. But I'll have a big think about overnight and post details either tomorrow or Friday.
We can start our auctions anytime from now until the 17th, but they must end on Monday 24th at 9am.
So stay tuned for details of mine. Thank you so, so much in advance.